Welcome to the Ohio Bingo Bugle!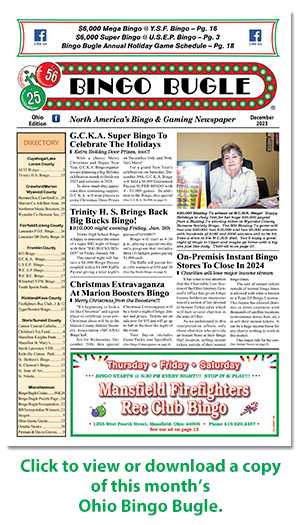 The Bingo Bugle is Ohio's only Bingo and Gaming Newspaper featuring the Best Games in the State!  The Bingo Bugle features monthly articles where you can read about new Bingo Halls opening in your area, special Bingo game events like Anniversary Celebrations. Super Bingos, and major Bingo news stories from around the state that are exclusive ONLY to this newspaper.
Your Comprehensive Guide
to the Best Bingo in Ohio!
Click on the "Game Directory" button and view our comprehensive list of advertising games all in an easy to read format.  Whether you're looking for a game in your area or your favorite day, our Game Directory will help you find it.  And, you can download and print a copy of the Game Directory to keep with you all month long!
35th Annual World Championship Bingo
Tournament and Gaming Cruise!
Come sail with us on the 35th Annual Bingo Bugle Cruise on Board the beautiful Carnival Liberty. Sailing from New Orleans on October 27, 2024,  your 7-day cruise will visit Montego Bay, Grand Cayman and Cozumel - three of the Western Caribbean's most beautiful and spectacular destinations. And, Bingo Bugle's 34 years of experience guarantees that we know just how to bring you the Best Bingo Cruise Tournament in the World! Play Bingo for more than $100,000 in Cash - PLUS A FREE CRUISE!!! Bingo, Blackjack and Slot Tournaments and nightly Cash Back Drawings!...what an easy way to enjoy Cruising with a Chance of WINNING!!! The One, The Only, The Original World Championship Bingo Tournament and Gaming Cruise from the Bingo Bugle.
The Largest Bingo and Gaming Publication in the World!
With a network of over 50 publications in the U.S. and Canada, the Bingo Bugle Newspaper Group is the largest Bingo and Gaming Publication in the World!   When traveling across the country you can use our Publishers' Hotline & Information Numbers to check on available games and times in your destination's area.  To find this listing, click on the "Bingo Bugles Nationwide" button where you will also find links to a number of local Bingo Bugle websites.  The Publishers' Hotline list is always available in our monthly Ohio Bingo Bugle editions.